Lockerungen
Aufstieg AV / AAV 0601
2006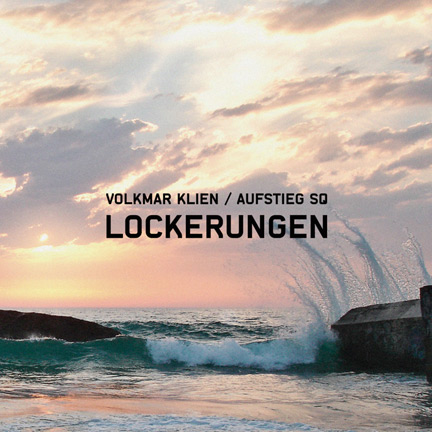 A composition for five musicians and computer model of the human vocal tract by Volkmar Klien, commissioned by Aufstieg Schallquelle (SQ) and Daghdha Dance Company.
Loosenings – a strict daily routine of loosening. Inevitably lacking discipline, the routine gets neglected; sleep is nurtured. Still, once in a while a nice achievement. Five instruments, one mathematical model of the human vocal tract. Effortless control over muscles, breathing never an issue. "Cricothyroid slowly from 0.1 to 0.17!" – Levator Palatini under highly virtual tension. Yet the sphincter is ever loose.
Many thanks to Dr. Serner for the title; on loan to be returned shortly.
Recorded in October/November 2005 by the fabulous Aufstieg SQ. Lockerungen is the extended version of Lockerungen 4–7, commissioned and premiered by ensemble Early Reflections, Prague.
Musicians
Gottfried Rabl – conductor
Weiping Lin – violin
Elaine Koene – viola
Sabine Zwick – clarinet
Alexander Krenn – trumpet
Balazs Sebestyen – trombone
Volkmar Klien – electronics
Tracks
001 / Lockerung 2004, #1
5'17"
002 / Lockerung 2004, #2
9'37"
003 / Lockerung 2004, #3
2'28"
004 / Lockerung 2004, #4
2'32"
005 / Lockerung 2004, #5
2'41"
006 / Lockerung 24.02.2005
2'23" / MP3 (excerpt)
007 / Lockerung 20.02.2005
5'25"
008 / Lockerung 28.07.2005
1'02"
009 / Lockerung 26.06.2005
3'39"
010 / Lockerung 30.06.2005
1'22"
011 / Lockerung 30.07.2005
3'47"
012 / Lockerung 27.07.2005
3'05" / MP3 (excerpt)
013 / Lockerung 20.07.2005
1'29"
014 / Lockerung 23.06.2005
2'58" / MP3 (excerpt)
015 / Lockerung 14.07.2005
0'20"
016 / Lockerung 25.02.2005
3'27"
017 / Lockerung 09.07.2005
1'57"
018 / Lockerung 25.07.2005
2'42" / MP3 (excerpt)
019 / Lockerung 09.08.2005
3'59"
020 / Lockerung 21.07.2005
8'11" / MP3 (excerpt)
Released in June 2006 / All tracks written and produced by Volkmar Klien